5 Tips for moving with children
Written by Fixed Price Movers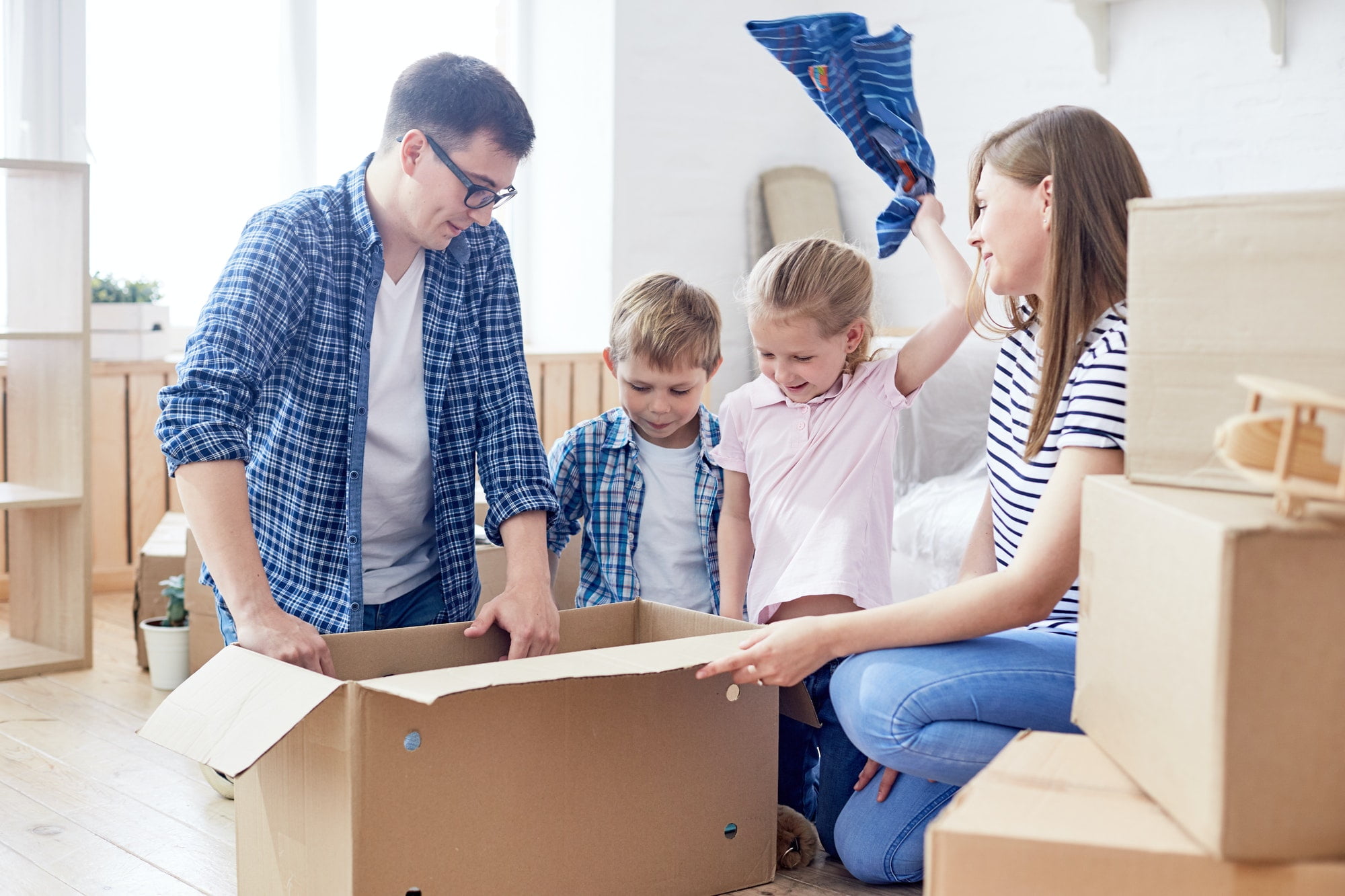 Planning a perfect move is easy on paper. But, many obstacles can arise. If you are planning a move with children, there are even more things to worry about. If you have already planned boxed filled with your things, your children will probably want to unpack them. Toys you were planning to throw out suddenly become their favorite toy in the world. Packing peanuts are a very dangerous explosive to have around kids who love making a mess. Our team at Fixed Price Movers has been helping people move successfully for over 15 years, and our movers have certainly had our fair share of moving experiences with children of all ages. Read on to find a few tips on how to move efficiently when children are involved.
1. Start early
Packing takes much longer than most people think it does. This is especially true for those who are planning a move with children. Our team recommends setting aside 2-3 days for each room in the house. But it is much better to have extra time than to run out of time. We urge you to start packing way before your moving date; it will surely take twice as long with kids. Many unexpected issues can arise, and by starting early, you will have enough time to resolve them. You will also be less tense and stressed out when you know you still have extra time. Running out of supplies may also be an issue that arises. Be sure to calculate enough supplies to last you the whole process. Our team at Fixed Price Movers has thought of a cool trick to help you with this. You can purchase ready-made packing supply kits in different sizes according to how many belongings you plan to pack. Individual supplies can also be purchased on our site for the most affordable prices.
2. Don't be afraid to ask for help
You will surely get everything done much quicker when you ask for help. Reach out to your relatives or your friends to come over and play with your children while you pack. Maybe ask someone to take them to a museum, a playground or someplace entertaining for a few hours so you won't have to worry about them. Once they are out of the house, you will have more peace and quiet to focus on packing everything. The grandparents will surely love an excuse to take their grandchildren out for a fun day. Usually, you won't even have to ask for help, as you will be offered help from your friends and family once you have announced that you are moving.
Asking for help can also include the packing. If you decide to pack by yourself and not hire a moving service, you are going to need all the help you can find. Before you invite someone over to help you, make sure everything is ready. Buy all the supplies, including boxes, labels, tape, packing paper, and anything else you might need before their arrival. You can also organize piles of specific belongings, then assign these piles to the people helping you. When you have already reviewed the piles, you won't have to worry about them packing things you might not want in your new place. You can order some pizza for a lunch break, or a make a nice cold cocktail to drink in the sun. Always keep refreshments around, packing is a tiring process.
3. Keep them busy
Children love feeling involved, so give them something to do. Of course, this doesn't mean giving them bubble wrap and sharpies. Instead, allow them to organize their belongings into piles, according to whether they will like it or not. The things they don't need, you can either sell in a garage sale for some extra cash or donate to a thrift store. You can promise the cash you earn from the sale to your kids if they are old enough, to motivate them into parting with more toys. Or you can give them a large box to organize their belongings in. You may have to repack this box later, but at least you will be given a chance to pack the rest while they are busy.
4. Use the extra time
It's not unlikely that children will start to unpack what you just packed and play with toys that were going to be thrown out. If you try to take it from them, a meltdown is sure to ensue. But, they will most likely forget about these toys after a few hours. This is where you come in. When the children are asleep, you can use this time to organize the boxes they packed and try to hide the items that they are never going to see again. Don't leave the trash in the can. Instead, throw it out, so the chances of them finding their abandoned toys are very low.
5. Buy groceries
You will surely have thought of not buying any fresh foods, and living off the frozen part of your fridge for two weeks or so. Our team at Fixed Price Movers can guarantee that this is a bad idea. You will surely get tired of eating the same meal every day very quickly. One can only eat so much rice and frozen vegetables. Especially because of how much planning and energy moving takes, you are going to need proper nutrition. You also want to make sure your children aren't complaining about meals they don't like. This is only going to add to the difficulty of the process. Try to keep your children in a good mood, because the more tantrums they throw, the more irritable you will become.
Moving can be a hassle, and doing it with children can be worse. But, this won't happen if you don't let it. Turn on music, dance around, and have fun with your kids while you are packing. Motivate your children, and they will start to help you instead of disturbing the process. After you move, all of this will only be a fond memory.
5 Packing mistakes and how to avoid them