Azusa Movers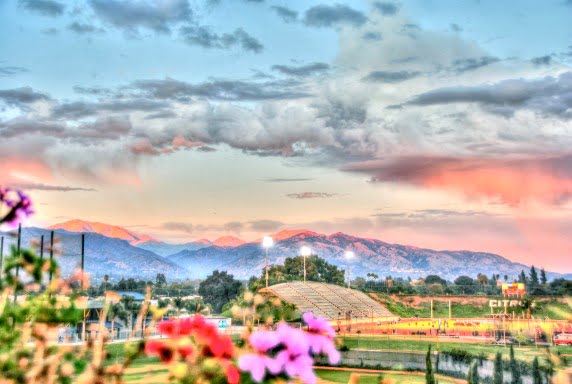 Founded in 1887, Azusa is one of Los Angeles County's oldest cities. Located at the foot of the San Gabriel Mountains, it has one of the most beautiful sceneries in Los Angeles. Azusa Movers will help you make your move as easy and stress-free as possible.
Nicknamed "Canyon City", Azusa is the place to go if you enjoy the outdoors. You can spend your time golfing, bird-watching, hiking, biking, and virtually any other outdoor activity you can think of. Monrovia Canyon Park is very large and well-known many trails for hiking, a beautiful waterfall, a nature center, and a cabin for events.
Here, you will be able to relax after a long hike by listening to the beautiful sounds of flowing water and enjoy the fresh air. It is the perfect place to enjoy a family outing. Another great park in Azusa is Slauson Park. Here you are sure to find fun for the entire family, no matter the age. There are lighted basketball courts and a big community pool with a two-story slide. Is there really any other way to beat the summer heat than by taking a dip in the pool?
Azusa Green Country Club offers the golfing experience of a private club for everyone. They host multiple tournaments and events in the year.
Azusa has a very high-rated school district. There are multiple middle and high schools, private schools, and kindergartens. Also, there is a private Christian College named "Azusa Pacific University" located here. This is the perfect place to move so that your kids will get quality education and enjoy an active lifestyle. So don't hesitate to call us at Fixed Price Movers and let us help you make a move. The people living in Azusa always say that they feel as if they live in a tight-knit community, and it is a family in its own way. It is a safe area, and everyone is very friendly and welcoming. If you decide to move here, Azusa movers will assist you with that.
About 15 minutes from Azusa is the very popular Santa Anita Race track. It hosts some of the most prominent and well-known horse races in the United States. This is a great place to take your kids and family to watch horses in action. Another very cool attraction in Azusa is Bungee America. They have worked with NASA and Walt Disney, and give people the opportunity to bungee jump off Azusa's "Bridge to Nowhere". The whole experience starts off with a scenic drive into the San Gabriel Canyon and a hike to the bridge itself. Then you will take a short training on safety and techniques.
After this, you will jump off over the San Gabriel River and have the time of your life! You can also take beautiful photographs and swim in the river afterward. As you can see, there is something for everyone to enjoy, so contact Azusa Movers to help you with the move!
Being in the moving business for 15 years, our team at Azusa Movers knows how stressful the process can be. That is, we are determined to help you get everything done as easily and efficiently as possible. Our team is constantly going through training to be as professional as they can be. They will do all the steps for you, including packing, transporting, and unpacking all your belongings safely for you. With us, you will be able to save time and money. The rates we offer are very affordable and budget-friendly. They are also fixed, so you won't have to worry about any unexpected extra fees. Azusa Movers offer you a 100% satisfaction guarantee and can be trusted.
Azusa Movers – A Quick and Careful Move
The first step of moving is packing your belongings. For this, you are going to need a whole bunch of supplies. Azusa Movers will help you determine what supplies you will need to make your move as safe and free of stress as possible. We will also provide you with this equipment, including boxes, wardrobe boxes, paper for packing fragile items, bubble wrap foam pouches, cushions, bags for heavy items, moving blankets, packing peanuts, hand trucks, and anything else you require.
Our team works all over the United States, so even if you are moving across states, you will definitely not have to worry about blowing your budget. Long-distance moving becomes easy when you trust us to help you. We are your local moving team that is easy to hire, easy on your wallet, and will provide the best service.
Azusa Movers can also offer you commercial moving of businesses and offices. Because even if you think you can pack very well, dealing with expensive equipment can be difficult if you don't have enough experience. Our team has been doing for years, so we know how to protect your belongings and get them to their destinations safely. We also provide insurance to protect your belongings in case of accidents.
Of course, we know that before you move all your belongings, you must clean your old space to get your security deposit. This is just one more thing to do on a long list. That is why we offer cleaning services too. We will clean your old apartment or office until its squeaky clean. So, you will only have to worry about getting your belongings in order. Azusa Movers will also clean your move-in space, and you won't have to stress about immediately unpacking and cleaning once you get there. Sometimes, you may not even be ready to unpack your belongings until much later.
For that reason, we also offer storage facilities all over the United States. We will safely store all your commercial and residential belongings until you require them again. As you can see, we offer all the services you will need when planning your move.  We are waiting for your call at any day of the week and we will gladly do all your moving for you.
This was our first time getting professional movers instead of doing it ourselves and choosing Azusa Movers was a great choice. The movers' Brian & Anthony were especially nice, helpful and complete pros at what they do. They got us in and out and made something that is normally stressful stress-free. They got our stuff moved 8 miles from Hollywood to Brentwood in 3 hours. Well worth it!
I chose Azusa Movers due to a Facebook posting by one of my friends. I can attest that their pricing is very fair and the workers move fast. I did have some issues with the individual who assessed our load as he under-assessed our needs, however, I can't fault the owners of the company for going above and beyond to rectify their employee's mistake. They truly do care and made me feel like a valued customer. I understand that mistakes can be made and for me, it is more about how a company handles the fallout that is meaningful. Later on, in the year we will need another move (less than the last move) and I will call FPM, as again, the workers themselves were great.
Azusa Movers were great!!! They got the job done in a timely manner and were very professional. Use them for your moving needs. They do a great job. Thanks for all the help with my moving needs!!
Top Reasons for Using Fixed Price Movers
We save you time and money.
We constantly train our movers.
We have no hidden fees or unexplained charges.
We guarantee 100% satisfaction.
We are fast and efficient and provide quality results.
We can be trusted with our licensed and experienced movers.
Learn more
SAVE TIME AND MONEY
Using our free quote tool!